Description
Oxidized Bitumen is produced by either Continuous or Staggered Blowing Process. Heated Penetration Grade Bitumen under controlled environment is blown with air which controls the Oil Content in the Bitumen while it oxidized. The different grades for suited applications produced are designated by two numbers to indicate the mid-points of their softening point and penetration ranges.
Application
Blown grade bitumen is widely used as an anti-slip layer compound in the piling industry, for manufacture of roofing felts, for sound dampening felts and under carriage sealant in the automobile industry, electric cable joint protection, joint filling compound, sealant compound and many others.

Technical Advantages
Durability
Flexibility
Water Resistant
Chemical Stability
Application
Blown grade bitumen shall be broken up into small pieces and heated slowly to the application temperature of 220ºC to 230ºC.
Packing
20 & 50 Kg Kraft Paper Bags / Poly Amide Bags & 200 Kg Steel Drums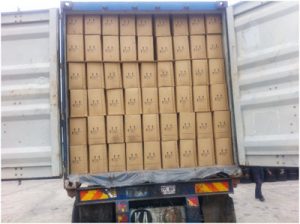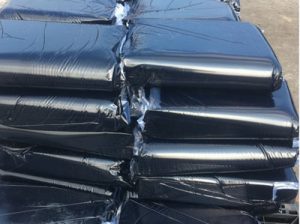 SPECIFICATION FOR OXIDIZED (BLOWN) BITUMEN
| PROPERTY | GRADES | | | | STANDARD |
| --- | --- | --- | --- | --- | --- |
| | BITUMEN R 10/20 | BITUMEN R 85/25 | BITUMEN R 85/40 | BITUMEN R 115/15 | METHOD |
| Relative Density at 25 deg C, g/ml | 1.00-1.06 | 1.00-1.06 | 1.00-1.05 | 1.00-1.06 | ASTM D70 |
| Softening Point (Ring and Ball), dec C | 90 MIN | 80-90 | 80-90 | 110-120 | ASTM D36 |
| Penetration at 25 deg C, 0.1 mm | 10-20 | 20-30 | 35-45 | 10-20 | ASTM D5 |
| Flash Point ( Cleveland open Cup), deg C | 200 | 200 | 200 | 200 | ASTM D92 |
| Loss on heating % by mass | 0.5 | 0.2 | 0.5 | 0.2 | ASTM D6 |
| Ductility at 25 deg C cm, min | 2 | 3 | 3 | 2 | ASTM D113 |
| Solubility in toluene % wt min | 99 | 99 | 99 | 99 | EN12592:2000 |